Featured Vacation Rental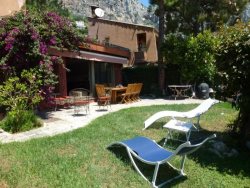 Eze sur mer, steps from the beach, villa, terrace, barbecue, pool, tennis, views, parking !
Summer Activities
Summer Activities on the French Riviera
With an exceptionally mild climate and enjoying over 300 days of sunshine per year, temperatures ranging from 18C in winter at midday to 32C midday in summer, this is a perfect place to enjoy outdoor activities. Whether your interests lie in high adrenalin sport, para-gliding off a mountain or something more relaxing, sitting in a square in an outdoor cafe watching the street musicians and people wander by, the weather is nearly always perfect.

There is so much to do on the Riviera and in order to make the most of your stay on the Riviera, make sure you take a look at the Events Calendar , so that you can take part in the events that are happening whilst you are here.

Villefranche sur Mer
Villefranche has a lovely long beach with a couple of small restaurants dotted along the beach.
Dark Pelican : If you want to be out on the sea, rent a boat for the day with or without a captain. The best way to see all the secret bays around St Jean Cap Ferrat, stop for lunch at the Anjuna Beach Restaurant in Eze Sur Mer and then visit the principality of Monaco. Tel : 04 93 01 76 54
La Rafale Petit Train Touristic : Commented tour - duration 25 minutes. Departure from
Place Amélie Pollonnais, via the restaurants, the Citadel, the old town, and return to place
Amélie Pollonnais. Trips from the 15th of April to the end of October. Tel : 04 89 00 47 76
Aqua Pro Dive International Diving : Exploration diving - Courses - Technic - Biology - Photo Diving for children - Equipment rental Open all year - Departures every day (summer 10.am & 3.pm - winter 9.30am & 2.pm) Individual rate : from 30 Euro to 60 Euro Group rate : min. 8 persons. Tel : 04 93 01 71 04.
Boat Trips : Individual and group excursions 1 hour - 2 hours - half day "meeting with the dolphins". Tel : 04 93 76 65 65.
Institut de Francais Ecole de Francais : The

INSTITUT DE FRANÇAIS

in Villefranche, offers a 2- to 4- week

French immersion language course

for professional adults and mature students who want to acquire rapidly fluency in French. Founded in 1969, its aim is to

develop a natural speaking ability. Make

learning French in France

a rich and memorable experience. Tel : 0

4 93 01 88 44
Beaulieu sur Mer
Beaches :
La Baie des Fourmis : a family beach with views onto the villa Kerylos. At the far end there is a private beach, La Calanque where you can hire sunbeds, parasols and there is a restaurant.
La Petite Afrique : A large sweeping beach with a play area for children and a Beach Volley court. There is also a private beach, Le Zelos Beach, which rents sunbeds and parasols for the day. There is also a restaurant.
Le Grand Casino : Located in a majestic belle Epoque building on the seafront, there are a number of different rooms where you can play roulette, blackjack and stud-poker.
Kerylos Greek Villa : Discover this French Riviera seaside Palazzo, luxurious re-creation of an Ancient Greek Villa. At the edge of the sea, facing the Saint-Jean-Cap-Ferrat peninsula, the Villa is a magic place that takes you back in time. Entirely furnished and decorated, the Villa's many rooms bear witness to the art of living and refinement of Ancient Greece. The Villa is also a place for wedding and receptions organization.
The Port of Beaulieu is located on a prehistoric ancient greek port of Anao. It is now a buzzing port,framed by restaurants, shops and cafes. To the far side of the port is the beach of La Petite Afrique which has facilities for a range of water sports.
Eze sur Mer & Eze Village
Sailing Club : offers lessons in sailing, diving and kayak. Tel : 04 93 01 56 92
Tennis Club : Qualified professionals (ex Davis Cup) can teach you on 5 courts, there is a club house, changing rooms and catering. Tel : 04 93 41 16 91
Golf : Monte Carlo Golf Club.

In a sea and mountain, this 18-hole course built in

1911 is one of the loveliest on the Côte d'Azur.

Tel : 04 93 41 09 55.

Para-gliding :

Whether you prefer a paraglider or a hang-glider, soaring through the airs will soon

become a passion...but keep your feet on the ground: you must learn in a school approved by the

French Federation. Leaving from Mont Bastide / Landing on Beach of Eze Tel :

04 97 03 82 82

Horse Riding :

Riding courses, pony and horses, Riding, horse breeding,

pony and horse care. Tel : 04 93 01 84 11

Rock Climbing :

From the small cliff, climbers will find a broad variety of routes in the park of the

grande Corniche, available for people who enjoy the beauty of technique, followed by the

satisfaction of reaching their own summit.

T: 04.93.62.59.99

Walking / Hiking :

About thirty mountain strenuous paths linked previously by walking, donkey or

mule riding.

Circuit du Mont Bastide

Circuit de la Forna

Circuit de la Revère

Eze Village :

For a long time, Eze has been

on the road of craft and muse of artists. Woodcarvers, workers in wrought iron,

glass-blowers, perfumes mix with international renowned painters. Coming in Eze is coming to meet a range of artistic expressions. Fragonard :

Since 1926 Fragonard has created perfumes combining

traditional techniques with the most modern methods. In Eze, you will find an immense perfumery, soap and cosmetics factory.

Free guided tours everyday Special july and august. Factory Workshop.

Tel : 0

4 93 41 05 05.
Galimard :

Jean de Galimard, Lord of Seranon, lived in Grasse where in 1747 he founded the parfumerie Galimard. Founder of the guild of "Glovemakers- and perfumers", he supplied the court of Louis XIV.

Two and half century later, the parfumerie Galimard still follows the same traditions as its founder.
The perfumerie is endowed of un studio of fragrances where perfumes are composed with measure every day with essential oils provided from the whole world.
A perfumer will come with the visitors to let them travel trough the world of smells and emotions.

Free guided tours everyday Tél. 33(0)4 93 41 10 70.
Monaco :
There is so much going on in Monaco, that no two days are ever the

same. In addition to the

major events

organised throughout the year,

there is plenty time for leisure activities which are particulary

enjoyable in the Principality.
Everything is done to give you the opportunity to go out day andnight :
• outdoor sporting activities : tennis, golf, jogging
Magnificent walks in the parks and gardens the pleasures of shopping : more than 100 shops

numerous

museums

, places of interest and

tourist activities

gastronomy : more than 150

restaurants

of every style for the night owl :

casinos

,

cinemas, discos

for the " art lovers " :

opera, theatre…

the

events

calendar
Nice :
Nice is an outstanding city, with an extraordinarily rich cultural and artistic heritage.
Cultural life is revolves around exhibitions in the

museums and galleries

, and the programme of performances in the theatres and the Nice Opera House.

The "niçois" art of living, is also a whole cultural environment : concerts, a cinematheque, conferences and other events.
To consult the programme of events, click here

.

Beach Life : Out in the sun, at last !

Or maybe under a parasol… Choose between 15 pleasant and comfortable private beaches, and well kept public beaches, wide open and free for all to use. The sea water is checked regularly and has a good rating according to European standards. The private beaches all have (from April to October) mattresses, parasols, changing cabins and showers.
Shopping : We love just everything !
The small boutiques displaying craftwork and Provençal fabrics in the Old Town of Nice, the jewelry shops on the Avenue de Verdun, the chic couturiers on Rue Paradis, the shopping arcades and department stores…
Nice has a total of 7 000 shops, most of which are concentrated in the city centre, in addition to 30 shops at the airport. Luxury items (clothing, leather goods and jewelry), local products (olive oil, sweets, flowers) and irresistable items (decoration, fabrics, gifts,) : there is something for every taste and budget.
Night-life : It's not all the same in the dark !
Decked out in all her finery, with the Bay of Angels all lit up, the main road often adorned with thousands of multi-coloured light-bulbs for the famous illuminations during the Christmas season or during Carnival .... Here in Nice, you are spoilt for choice when it comes to dancing, cinemas, discos, restaurants and casinos.
And for scatterbrains or those in a hurry : shops that stay open round the clock.